Shopping Cart
Your Cart is Empty
There was an error with PayPal
Click here to try again
Thank you for your business!
You should be receiving an order confirmation from Paypal shortly.
Exit Shopping Cart
Coffs Harbour Camera Classes With Toni Fuller's Photography School
IN 2017 Tones introduced 3D imaging to her range of services.
With an emphasis on property sales and commercial space interiors, this new technology has allowed Toni to travel to many areas in NSW to shoot the commercial work required for the client. 3D imaging is done when a home or property is 'dressed and ready' for advertising, or insurance imagery.
Unlike many of the services in property photography today, this 3D imaging captures everything within the walls of the scanned property. Viewers are able to zoom in and move around just like in a video game. This technology is useful in hospitals to document operating theatres, areas that need rejevunation, or allowing the 3D tour controls to be used in lectures for the students to be able to actually 'walk though' a room.
The scope is endless!
 Our clients include - Builders and Designers
- Real Estate and Property Photography
- Holiday Rental Market
- Owners photographing new builds for builders warranties/ insurance
- Insurance claims
- Commercial leasing and premises imaging 
- Retail Store Imaging, Upgraded spaces in Clubs and Pubs
VIEW THIS DESIGNER COASTAL HOME IN 3D 
https://my.matterport.com/show/?m=AtNsaGHHDxU&mls=1" target="_blank">https://my.matterport.com/show/?m=AtNsaGHHDxU&mls=1


Toni Fuller Master Photographer II talks freely about Glamour and Boudoir photography with the use of studio lighting and natural lighting.
A pretty face doesn't necessarily mean that you are photogenic and can work to a camera. Alternatively faces, or palet's, bone structure's and feature placement's are the most desirable thing. Beauty is perceptive - some people like the look - others don't.  So the trick is to combine the beauty with the talent of working the camera and knowing how to light a subject for effect is of major importance.
This lovely model is beautiful in her own right, but with the application of different makeup plus hair styling plus clothes choice and lighting you can create a totally different look and a 'new' persona. 
Glamour can be about a lovely shot of the subject for portrait's sake, or it can be creating a new and sensual look designed to turn heads and get wow's.  So we are back to understanding lighting, composition, mood exposure control to bring in your desired effect. Sometimes I work with studio flash equipment and sometimes I use other forms of introduced lighting. Often I use natural light as I have always termed myself a natural light photographer. Reflective light - still 'natural' even through it may be reflecting off a building - is one of my favourite lightings -  along with working beach photography . You must learn to 'see the light' in order to use natural lighting to it's best advantage.
When doing any kind of photography 'seeing the actual light', not just looking at a pretty face or great body and dismissing the terrible patchy lighting on it because you are to caught up in the looking to notice anything else. Or that great smile grabs you - to bad about the blacked out eyes and shadow's under the nose - because of poor lighting  these are the things that need concentration and control to pull of a great shot.
With my Canon DSLR camera set on a tripod I often use long exposures to push the boundaries and help new effects to evolve. I just love light and changing it opens up so many different possibilities and has helped me gain a national reputation for creativity and new idea's. 

I have worked with to many people to count over my 35 year career as a professional photographer and i must say that this girl has 'IT'.  She can work a camera in a blink of an eye and the looks she gives are to die for.  Luckily for my Glamour workshop in April 2014, she will be the lead model.
These classes are limited to eight people only and are a speciality class so you must have an understanding of your camera before doing it.  It is not a camera instruction course. But whilst saying that I do, of course give you settings to use but I expect you to know how to find them and also play with a few new things yourself. 
Just setting out to take shots and see what you can find is a fun thing to do but often people become frustrated as they can't find anything
interesting to shoot. It's my belief that if you just take the time to slow down and stay in the one spot for a few minutes, things will start to reveal
themselves to you.  Large or small, it doesn't matter, but by slowing down you are giving yourself time to absorb your surroundings and take notice
of the shadows and highlights, really see the shape and form of objects and discover those small things you may have just walked over a few
minutes ago.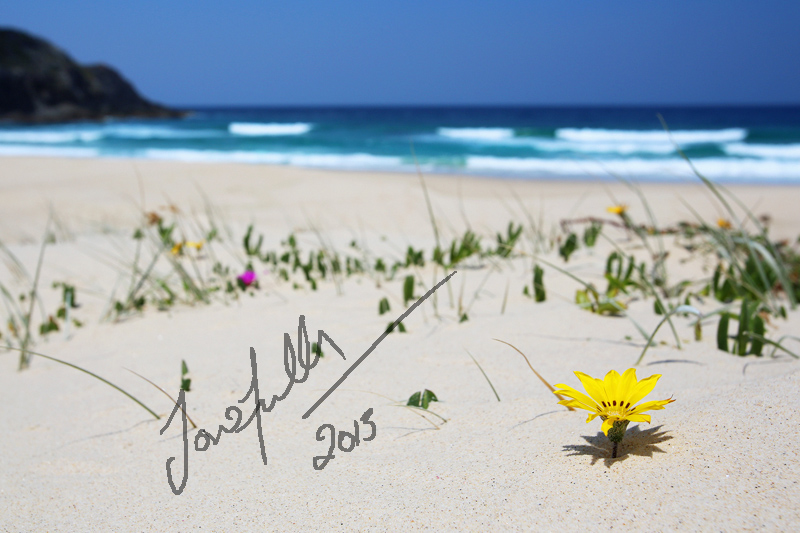 This coastal scene was taken in the dunes and it took me a moment to work out what was wrong with the picture.  Because of the erosion and high
winds of late, the dry sand has been blown up the sand hills and has totally covered the actual plants so only the struggling flower heads have
emerged.  A unique site that had me fascinated as I searched around for more of this. When I widened my view and looked around I saw that I
was surrounded in the same thing. Two minutes before I had not seen this as I was busy looking at the view.
To highlight the flower, I decided that I should use a shallow depth of field and set my aperture at f3.5. As this was the main element of the
exposure ( controlling how much I have in focus) the time or shutter speed becomes the secondary measure and I can't recall what that one was.
Also I was shooting with a 16mm wide angle lens which has a larger focal area than a standard, telephoto or close up lens. In the above image I
got down so I was using my elbows in the sand as a tripod.  Then I almost lied down to get as close to 'under' the flower as I could.  This view point
empower's the subject giving it prominence, strength and importance. 
My equipment used was a Canon DSLR camera body, Canon 16 to 35mm wide angle zoom and a circular polarising filter. By looking at the
shadow, you will see i was shooting at midday in very bright sunlight.  The polarising filter helps to eliminate glare and helps 'true up' the colours.
In the below image I took a totally new view point and shot this image standing and looking straight down on top of my image.  I had to be to one
side so as not to get my shadow in the shot.  You can see that this perspective 'flattern's' the subject, making it hard to distinguish how far above
the sand the flowers are.
Both images are beautiful and it is up to your imagination to decide the best way to capture an image such as this. Happy shooting everyone.:)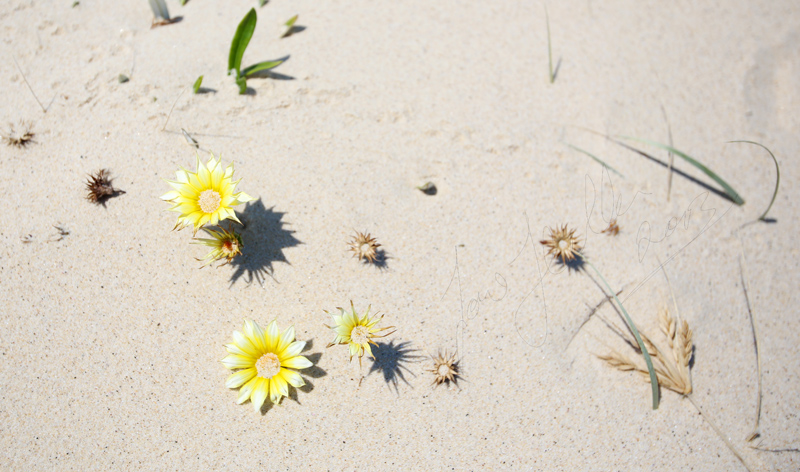 We are happy to announce that until Christmas 2013 we will have 100 x $10 and 100 x $15 gift certificates up for sale.
These gift certificates are bought in blocks of $10, or $15 so you can buy as many or as few as you like.
To spend $90, you would buy 6 x $15.00 Gift vouchers and the total would be $90.00.  
Signed and validated Gift Certificates will be emailed to you once the payment has been made.
You can use these towards Toni Fuller's Photography School @ Coffs Harbour Photography for a photography class or private photography  
tuition, or private photo editing and photoshop tuition. Buy these great gifts in our shop.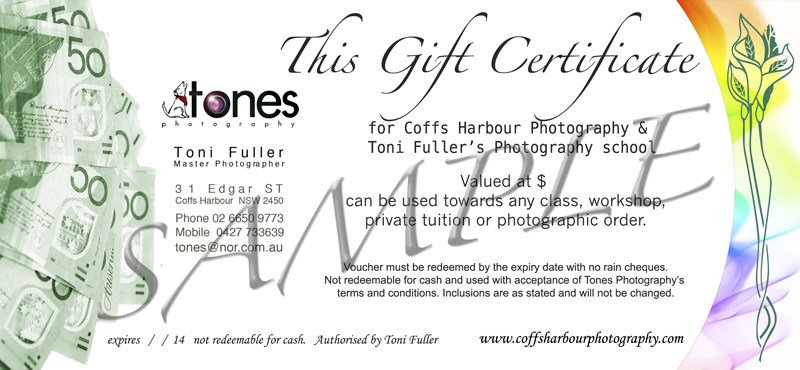 These gift certificates can only be used towards portrait orders for Tones Photography from pre-completed portrait assignments.
They do not apply to new portrait bookings. Tones Photography is Coffs Harbour Photography.
The name change has come about simply because of google searching and making things easier  for you all to find our classes, in the local area.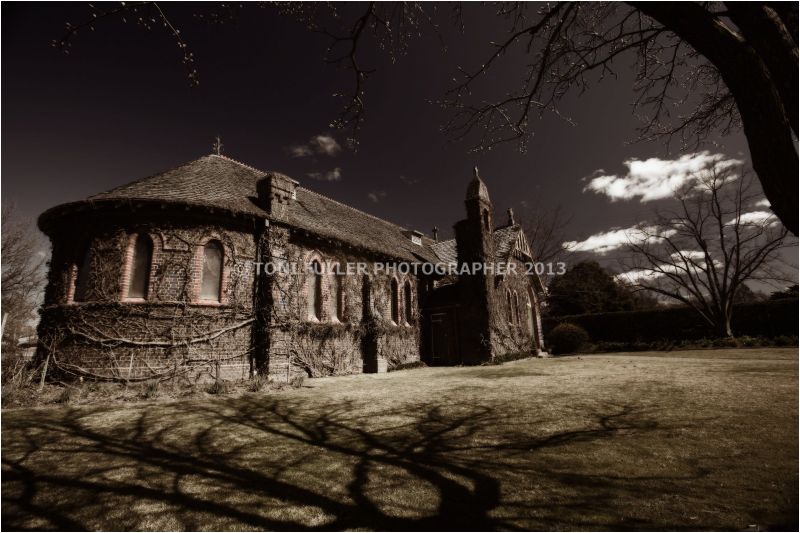 TODAY I spoke to a lovely lady in Armidale who wants to come to Coffs for a weekend class. After some discussion I realised that even though I had offered to come to Armidale, they were after a sea change weekend. I love it up the range and look forward to any reason to go west, just as the inlander's look for any reason to come east to the coast.
It's interesting, visually you are always looking for the 'different things', but what is different to you is normal to others. Finding inspiration is often easier when you are in a new environment, plus you have the sense of having a weekend break.
So, welcome the Armidale connection! We look forward to seeing you for a wonderful weekend of visual fun in November. PLUS Coffs local's who also enjoy this weekend session will be inspired by meeting new people and possibly forge new and exciting friendships.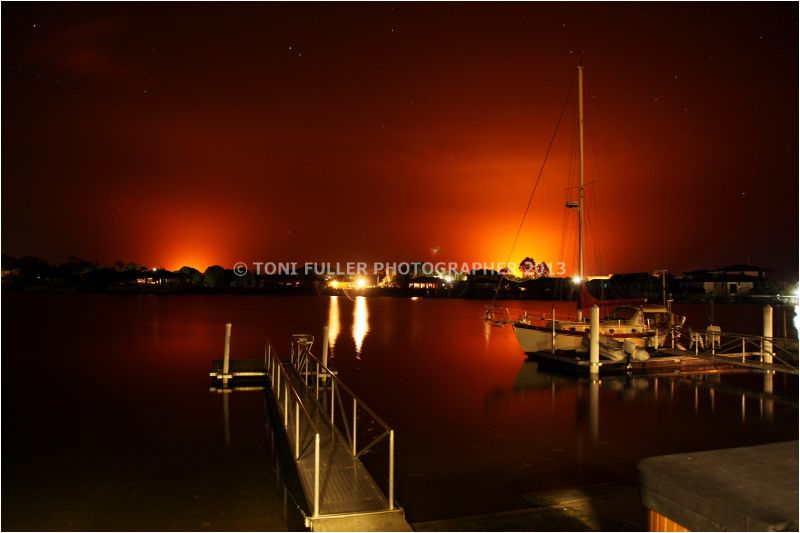 WHEN you book into a Digital Camera Class, you do so to learn as much as you can about photography.  There are a few 'tools' or essentials that you should always have as part of your working 'kit'.
One of those items is a tripod. This poor thing is the most hated bit of equipment I have ever come across in photography. People find them to be bulky and hard to use.  So if you are in the market for a new tripod buy one with a 'ball head' of some kind ( trigger grip or other) and you will love your tripod instead of hating it.  The problem has always been that they take a long time to set up and have to many knobs to play with. Well play with them and find out what they do and you will understand the role a tripod plays.  
Make sure to always retighten anything you loosen or the gear could fall off or become unbalanced. 
SO THE TRIPOD IS A TICK, WE NEED ONE OF THESE.
Also a cable release for use with long exposures. Without one of these the largest exposure you can achieve is generally around 30 seconds.
That sounds a long time - until you want to do a three hour exposure- then you are no where near the mark.
Nikon, Canon, Fuji, Pentax DSLR's and Sony and any other DSLR brand I have forgotten to mention will have a compatible cable release.
CABLE RELEASE - TICK.
Apart from those few things, other handy items are a lens cleaning cloth and some UV filters ( one for each lens). 
Well it's very humbling when you get asked by the Coffs Coast Advocate newspaper to send in a story starting ' my beautiful photos'. Instead I decided I would like to have a story on my classes and showcase my students beautiful work.  So Michael Schultz, Ari Street/ Jess Brown, look out ! Hopefully you both will have an image in the paper, along with a great candid shot of myself and my class working in an Advanced Portrait Lighting workshop a few years ago. 
- Thank you Wendy 
 for your interest.
The author of this shot I think was Martin Stuart, but I'm not sure. If anyone knows please pass his name onto me as I just love this funky image. 
The next class to start is the NIGHT photography / landscape course and we are getting it in before daylight savings starts.  This class will feature landscape photography using long exposures and varying apertures.  I doesn't matter if you are using a Canon Dslr, Nikon Dslr, or any other brand of camera - what matters is that you have completed the beginners photography course or have a good grasp on shutter-speeds and camera settings.  It is a must that you have your own tripod and cable release, as well as a torch to see where you are going!
We will be shooting urbanscapes as well as landscapes along the Coffs Coast, but mainly centring on the Coffs Harbour Area. Last time this class ran we photographed in Sandy beach, Sawtell, Coffs Headlands, and Emerald beach, so we did cover some ground.  Because we are out and about and we get so involved with what we are doing, this class can sort of run overtime as no one wants to stop!  
Come have some time out for yourself and enjoy one of these classes. Creativity can always be unleashed!
A few months ago I received a note through the AIPP that there was a photographic scholarship being offered to regional students interested
and active in photographic processes. Instantly I contacted one of my teen's Jess Brown and told her to apply. She did apply and has sent a
wonderful and diverse portfolio for judging to se if she will be selected for the regional Photographic Scholarship. I will up date you all as to how
she went once Jess gets the news herself. 
Good luck Jess I do hope you are successful as you have a good eye and a great enthusiasm for
learning the techniques behind great photography. 
I love my Teens Classes and the energy that the young carefree students give back to me. They are a laugh a minute especially if dress up's
are involved. But amongst the laughter and crazy clothing is lighting techniques and understanding how to achieve the correct exposure to
reflect your 'thought's' photographically. 
Photography classes held by Toni Fuller at Coffs Harbour Photography are open for everybody to join. If we don't have one you are looking for,
please let us know so we can look at adding it to our list of classes.
What Camera do I need to do a class?
This question I am asked all the time, along with what model and brand do I buy. Please take the time to read it and you will find I have answered most of your questions.
Let me just answer a few of these questions for you. To do 90% of my camera classes you will need a Digital SLR camera, or DSLR.  This style of camera is defined by having detachable lenses and ( generally) many different control settings on the body. Detachable lenses are lenses that can be changed.  You can buy many different styles of lenses and as you discover the beauty and wonder of photography you will gravitate towards a particular 'like', whether it is close-up or macro photography, landscape, or people.
Digital SLR camera's are abundant on the market today with brands like Canon, Nikon, Sony, Minolta, Olympus just to name a few. The DRSL leaders are Canon and Nikon, and these two are the ones that I would tend towards as long as your budget allows for that.
Both Canon and Nikon have great camera models and lenses to go with them, and again you need to do a bit of research as to what is best for you.  We DO NOT recommend camera models to you. We are not camera sales people and models change all the time.  Add in that every person has a different 'wish list' and budget and you may understand that we don't sell gear, or keep up with every model and price range on the market.  That is something that you are simply going to have to do yourself.
SIZE DOES MATTER :: What to look for when selecting a camera model/ body/ kit.  All camera bodies have different ' specs', and so things like weight, size, hand-ability, and body function set up come into play.  Men's hands are usually larger than females hands and sometimes a smaller DSRL body will not 'fit' into a larger man's hands' comfortably.  Also some woman are vey petite and smaller hands may prefer a smaller light weight body. 
As I travel for work constantly and this often includes flying, weight is a major factor for me when considering new gear. For those of you off on great over seas adventures you should also think about this as carry on luggage is only five to seven kilo's and you will be carrying that for the duration of al your flights. 
FEATURES OF DIGITAL SLR CAMERA'S: The more you spend on your body , the more features will come with it. But you really don't need all these functions and probably never will use some. Buy a body that is not to complicated when you are starting out or you could end up so confused that the big camera sits in the wardrobe and the point and shoot has all the fun! I have seen this over and over again. If you buy a simpler body to start with and learn to use it, a more professional model will always be on the market for a later date. 
DSLR WITH A LENS KIT :: Many camera manufacturer's sell their body's with the option of a 'kit lenses'. This will consist of two lenses of different focal lengths from wide angle to telephoto, and be enough to get you going on your photographic journey. However kit lenses are the cheapest of all lenses and therefor are 'slower' at taking some images. They have fewer apertures and lesser quality glass and casings so are an entry level product. This once again does not mean they are no good, it simply means that there is ' better' on the market. These kits are a fantastic way to explore the different sens variations and find you true passion for  photography. 
You can choose to buy a body only and add any lens you so choose ( as long as it is compatible) to make your own kit. This option will be more costly but could give you exactly what you want. Lenses ca always be purchased afterwards. 
COMPACT CAMERA'S :: Are defined as cameras that do not have a detachable lens. Some are very small purse sized models and others look more like a digital SLR in shape but have no interchangeable lens. Again there are thousands of models on the market and - we don't sell camera's - and would not have a clue as to which model would be best for you. 
Some of the DRSL style models are OK for some of my classes but the main downfall is that it is very hard to manually focus, or not a function that you can do and this can cause some problems when we do certain demo's. If you have one of these camera's then there are some classes that you can not participate in as you will not be able to set your camera accordingly.
TRIPODS and HEADS :: Your kit will end up including a tripod and a cable release, so you can look into these as well and perhaps get a better price if you buy all together. The tripod should be sturdy and preferably have a 'ball head', or 'trigger grip'. Believe me when I say the added advantage of either of these grips it that you will not hate your tripod because you don't understand how it works. If you purchase a tripod that has a standard head, make sure that this head can be unscrewed  so you can buy a trigger grip or ball head down the track. On very cheap tripods may not be able to unscrew the head, meaning that this will never be able to be changed. You can get a suitable tripod starting from around $135.00 up.
CABLE RELEASES :: The variety of these is also endless, from brand names to generic models, cable releases come in all sorts of styles.  To do the classes you only need an easy to use model that can plug into the camera. Cordless varieties are more expensive and many of my students have had trouble setting them and using them. this means that they have missed valuable shots fiddling with gear. Simple, easy , plug in models are always good enough for the uses we have and they will ensure that you will always get, rather then loose, the shot!
FILTERS :: Making sure that you get filters that are suitable for DSRL models, the main two filters to get are UV filters to cut down glare and protect your lenses and a circular polarising filter. UV filters should go on all your lenses. The polarising filter is put on to give effects and is not as important as the UV filters.
I hope you have all found this to be informative and useful. If you are in Coffs Harbour, then I recommend Fletchers Photographics to you as a local dealer. They know all the things that I like you to have for classes and the specs of things like tripods that I recommend. BUT please don't waste their time -  if you intend to buy online and never have walk in service and help - then don't bleed them for info, it is just rude!  Local businesses need support and if they don't get it, they wil be gone and we will be very stuck for quality service and help. - That is my opinion and my say anyway!
My husband Joel Wait is a refrigeration mechanic and on a rainy day not long ago he was called up to a break down in Dorrigo.
Being that it was my day off I decided to go up with him and wander around Dorrigo and have a camera free day out. Those are rare for me.
The problem was I did take my iphone and my ipad ( to do some reading) and couldn't help myself when I saw a few good things to shoot.  In fact we had to turn in to shoot the landscape scene but what a great image. It was well worth the stop.  After that I decided to shoot from the moving car to see what I could capture to inspire me. By the time we hit the highway again I was texting a select group of regular students and giving them the ' call' to head out with me the next day and do it again.
Unfortunatley the followng day was sunny and bright and no good for my treck. Lucky I did take my ipad to shoot with !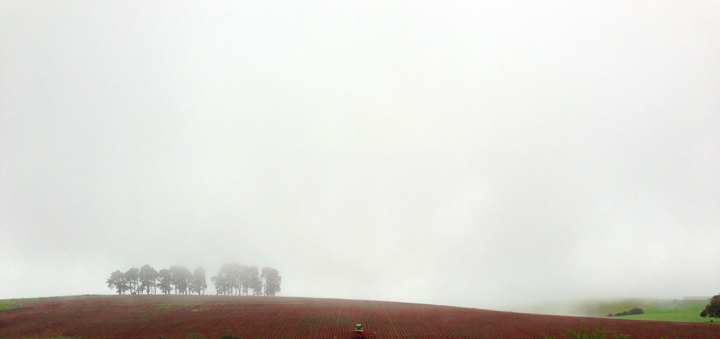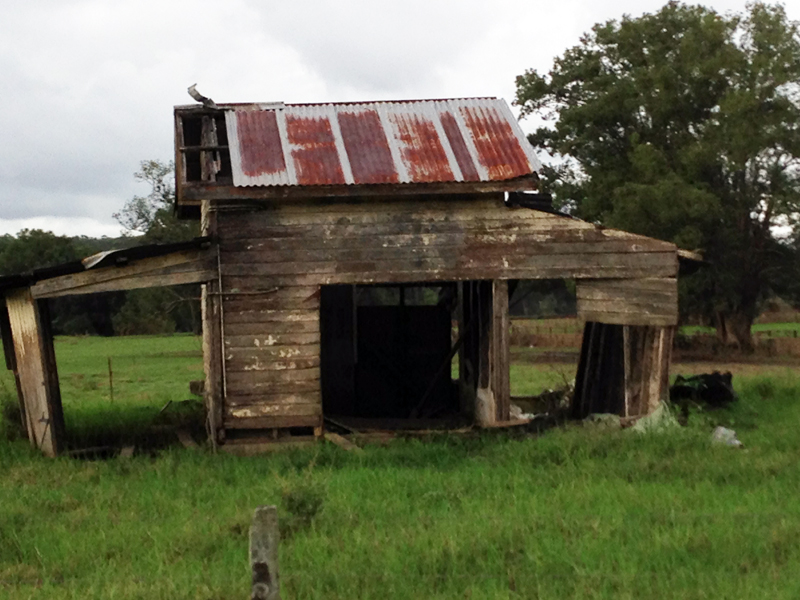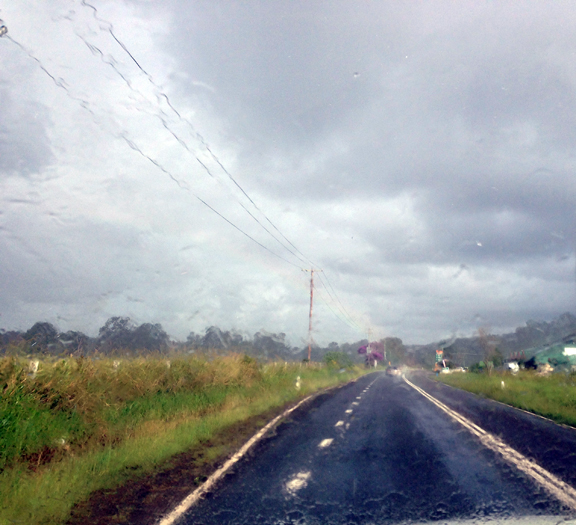 Composing a scene in a moving car takes a bit of practice and using an Ipad instead of my trusty Canon DSLR felt strange, especially the no real focus thing and the size of the image I was looking at. I could only do this in 20 second blasts as the effect of the car travel, rain, movement on the ipad I was getting car sick at a rapid rate. You can find out more and explore this kind of photography whern you join one of my weekly photographic classes.
/